As we finished Week 6 or 7 — honestly, I lost count — of the corona quarantine, I took myself out. No, I'm not part of the death cult for cuties (more on that later). I went to the Burke Salon and Spa, where my unruly eyebrows were hacked into submission and my bangs were cut away from my eyes — now I am blind no more! Then it was off to Maison La Liz, where I had a very special meal of La Lean Cuisine before stopping off for drinks at Burke's Bar (a dive I usually reserve for Saturdays) before going to bed at the ultra-luxe Hotel Queen Elizabeth. All in all a wonderful Sunday, and you can't beat the commute!
The next night, we recorded this week's episode of the Burke's Law podcast. Our editor, Michael Houk, was found alive and well (though not so much for Kim Jong Un), and CFR Executive Editor Leonard Jacobs was hanging out with a Flowbee-type haircutting accessory in his hand. One of our main topics was dumb Donald's death cult.
Michael, as you may know, lives in Georgia and for some unpatriotic reason he does not support the insane and murderous plan of his governor, Trump sycophant Brian Kemp, to open up his state's businesses by the end of this week. By "businesses," Kemp means, for example, bowling alleys, tattoo studios and hair salons — if they meet safety standards and if they enforce social distancing; movie theaters and restaurants can reopen next Monday. We'd all love to understand how, exactly, one gets a tattoo from six feet away. Similarly, how does one get a haircut when the hairdresser is standing in the doorway trying to make longer scissors?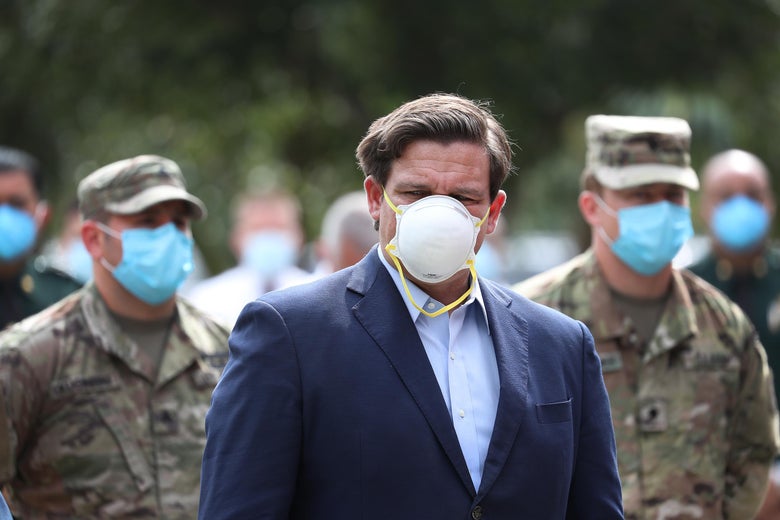 The irresponsible boot-licker (and voter-suppression king) Kemp is not the only fool and death cult member who has been cowed by our increasingly unhinged president: the governor of Florida, BonTonRon DeSantis (because, of course, Florida), clearly does not understand how a face mask works. This is the guy who opened beaches for spring break because what could go wrong? This is the guy who wore gloves to a press conference, then took one off to scratch his face. This obvious MENSA candidate had the grand idea to garner applause from Trump by reopening beaches on the same day that Florida saw its highest number of new coronovirus cases.
Not to be outdone, ordinary citizens of America's real death cult — the one backed by right-wing groups like those funded by Secretary of Bad Education Betsy DeVos — gathered last weekend to scream at various state houses to open up. My gosh, it does seem like these tough, strong Trump supporters couldn't stand a few weeks or months of not boating or going to their lake house or shopping at Lowe's for potting soil. These death cult freaks who love to "own the libs" and laugh at our elite softness marched with signs up and guns out to demand a haircut (maybe the Burke Salon and Spa can help)!
The signs were absolutely insane, like that woman holding the My Body, My Choice poster!  I've been screaming that for years! I'm 100% sure she didn't get the sad irony of her message. She's pro-life — except for anyone she gets near.
Meanwhile, during the never-ending nightly reality show Trumpland, the fat, bald, orange host harkened back to the good old days of defending Nazis after Charlottesville with this statement:
I've seen the people, I've seen the interviews of people. These are great people… Look they want to get — they call cabin fever, you've heard the term — they've got cabin fever… I think these people are — I've never seen so many American flags.
There were Nazi and Confederate flags, too — so I guess he likes all flags, right?
So join the tragically hirsute trio of me, Leonard and Michael as we delve into the week we had, not the week we wish we had — and remember, STFH. You do know what that means, right? Here's another reminder:
A sincere note of appreciation to our 3.5 listeners for your support. If you do enjoy this podcast, please leave us a review and also share this episode on social media or wherever humans gather until 2022. On Twitter, please follow Liz at @burkelawNYC and follow CFR at @TheCFReport. Stay safe.