Podcast: Play in new window | Download
Subscribe: Apple Podcasts | RSS
In this episode of our podcast, I'm joined by writers John Biggs and B.J. Mendelson.
Biggs is a tech journalist who hosts the podcast Technotopia and has authored several books, including Black Hat: Misfits, Criminals, and Scammers in the Internet Age.
Mendelson is an author and comics writer whose books include Social Media is Bullshit and Privacy: How We Can Get It Back.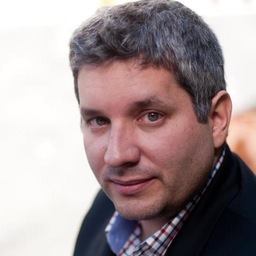 In our far-ranging talk, I ask them what artists can do to stay safe when promoting themselves online. We recorded this episode as the first stories of Facebook's misuses of user data were coming out; it now feels surprisingly prescient given how much of national conversation social-media privacy and best practices have become. (Their voices sound slightly similar, so I should note that Biggs is the one who speaks first.)
We also wade into how technology is shaping the arts, whether robots can replace human artists, and what experts in STEM fields can learn from the humanities, and vice-versa.
I must admit that I was surprised by how harmful both Biggs and Mendelson find our social media platforms to be, but I think their views are important for anyone looking for a more intentional and positive relationship with the Internet. You'll also learn about Gil Weinberg and Mason Bretan's marimba-playing robot Shimon at Georgia Tech, and why you shouldn't use Twitter the way angry Star Wars fans do.
Thanks as always to our listeners for your continued support. If you enjoyed this show, we hope you'll consider sharing it with your fellow humans and robots on social media. (Just don't rage-tweet it at Rian Johnson.) We also invite you to catch up on all our past episodes, either here on the CFR or by subscribing on iTunes. On Twitter, you can follow me and this show @_SeanDouglass_ or @TheSceneCFR.